Pool Wall Foam For Above Ground Pools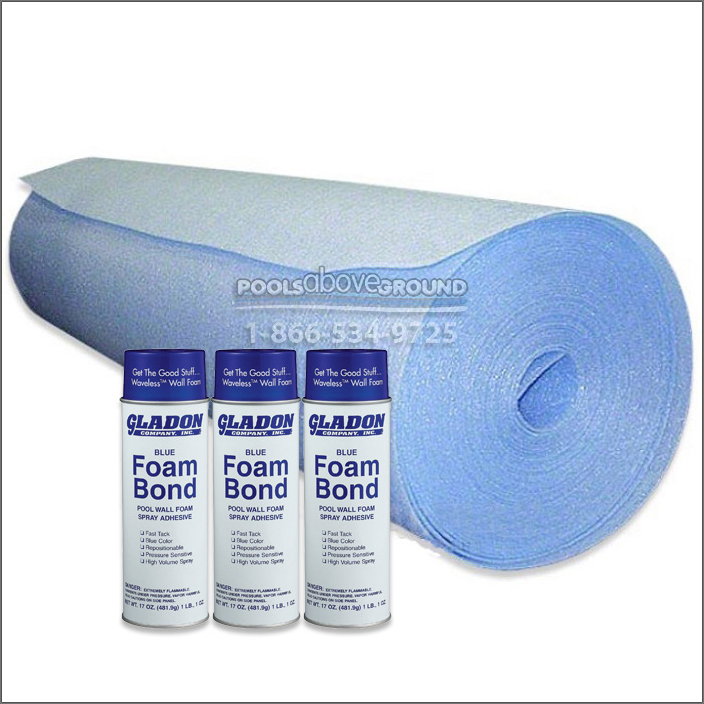 Pool wall foam for above ground pools is a closed cell foam sheeting measuring 1/8″ thick by 48″ tall. It is sold in various lengths to accommodate any pool size. Pool wall foam is designed to add a padded barrier between the pool wall and swimming pool liner. This padded barrier also has an insulating factor which helps swimming pools retain heat, keeping the water warmer.
Wall foam is also popular when relining an older above ground pool. The use here is to smooth over a rough or rusty surface and protect the new pool liner from punctures. Pool wall foam is held in place to a clean dry pool wall with Foam Bond, an extremely sticky spray adhesive. Pool wall foam even though 48″ tall works great on pool walls up to 54″. This is because the bottom of the wall has at least a 4″ pool cove anyway so the extra length of the wall foam is not necessary.
Our Pool Wall Foam kits come with the proper amount of adhesive needed for the pool size specified. Color of wall foam may vary but is not significant when installed.
Ocala Area Cities We Proudly Serve
Anthony, Belleview, Citra, Dunnellon, Early Bird, Fort McCoy, Marion Oaks, McIntosh, Ocala, Ocklawaha, Orange Lake, Orange Springs, Rainbow Lakes Estates, Reddick, Salt Springs, Silver Springs Shores, Summerfield, The Villages
Above Ground Pool Dealer For These Ocala Zip Codes
34470, 34471, 34472, 34473, 34474, 34475, 34476, 34477, 34478, 34479, 344780, 34481, 34482, 34483